Russ Gladden
Regular Poster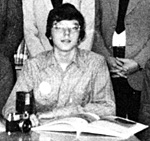 Joined: 05 Jun 2004
Posts: 8
Location: Ottawa, Ontario

Posted: Sat Jul 23, 2005 11:23 am

Post subject: Miss Strong's Grade 5 Class

---

Anyone else remember Joyce Strong's grade 5 class at Davis Elementary?

We all had to make these huge Newfoundland maps by tracing the outline of a roadmap onto a big sheet of styrofoam (with a nail), then painting it, adding plaster of Paris mountains and place names cut out of orange stencil paper.

Then there were the Beothuk camp dioramas...


Russ.