Russ Gladden
Regular Poster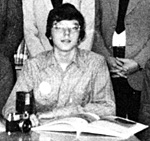 Joined: 05 Jun 2004
Posts: 8
Location: Ottawa, Ontario

Posted: Sat Aug 07, 2004 6:04 pm

Post subject: Southside Hangout

---

Anyone remember the name of the store on the north side of Park Avenue near the railroad tracks? There was a shop out front, and a small arcade in the back room with pinball machines and even some (very early) video games. This would have been around 1980.


Russ.
direes
Forum Newbie





Joined: 26 Aug 2005
Posts: 1
Location: Victoria, BC

Posted: Fri Aug 26, 2005 10:36 pm

Post subject:

---

I think it was called Pike's Arcade. Not sure though (gettin too old to remember) I do remember hanging out there though. Lots of good times and memories:!: