Experimental WebCam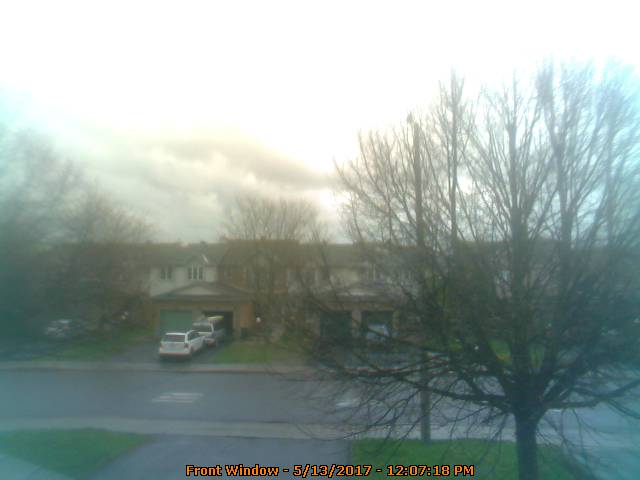 Detailed Ottawa Weather: Environment Canada, The Weather Network, The Weather Channel,
CBC, Weather Underground, and AccuWeather.
Current Ottawa View Star Chart and More Current Astronomical Data
The image above was captured using an All-in-Wonder Pro video card by ATI Technologies. Neil Kolban's WebCam32 program takes video captures and periodically copies them to my web server. This page will automatically refresh every 60 seconds, although the image itself may not be updated that frequently. Depending on the current settings of the card, you may see such video feeds as local CCTV (closed-circuit television) video from a black-and-white security camera looking out my window, a colour camcorder above my computer monitor, or cable television programming (usually The Comedy Network) from Ottawa. If the WebCam program isn't running, you'll see the most recently uploaded image. Capture source, date, and time (Eastern Time, 24-hour format) are shown at the bottom. Weather data courtesy of The Weather Underground. Time display from The United States Naval Observatory.
If you're using an up-to-date web browser that supports Java Push (such as Netscape or Internet Explorer 4 and above), be sure to try out my Java Live Cam!
Also check out my collection of Live Ottawa Webcams.
---
Return to Russ' Home Page or send e-mail to admin@gladden.org .